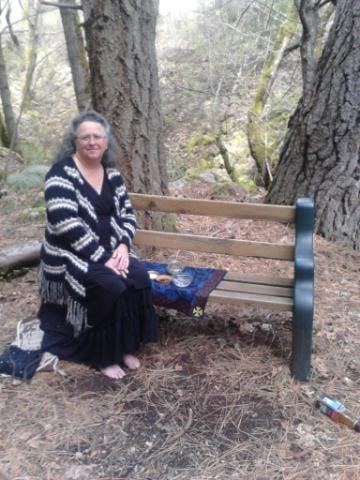 Cat was raised in a magical system by her mother and grandmother and was initiated by them into the family tradition at age 13. Over the years her grandmother taught her the ways of a Hedge witch, Wortcunning, and "The Knowing" which is a mix of clairsentience, personal gnosis, and psychic ability. From working in the garden with her grandmother Cat became passionate about herbal medicine. Her insights about this are often discussed in her Facebook group Herbal Alchemy.
Cat's mother being less traditional, was a progressive-minded Christian Mystic that gave Cat her interfaith morals and taught her to be an avid reader. Cat's literary education in the craft began at age 10 with authors such as Edgar Cayce, Marion Zimmerman Bradley, Lobsang Rampa, Gavin, and Yvonne Frost, The Golden Bough and many more which she continues to this day.
By the age of 18, Cat was adept in clairvoyance, UPG, dream work, astral travel, mediumship, and empathic skills. She went on to use those skills in her work as a Dual Diagnosis counselor when inspired by Judith Orloff's book Second Sight. During her 15 years of counseling Cat worked in such places as the Salvation Army ARC, The city detox, methadone clinics and The Native Nations in Portland Oregon.
Cat later stepped into the public arena of Paganism at age 50 through Rowan Tree Pagan Ministries. There she began teaching and became an Ordained Pagan Minister and High Priestess and ran RTPM as a public organization for five years before going non-public.
Cat now hosts a private initiatory coven and school, by the name The Coven of the rising Phoenix where she teaches and is Co-High Priestess with Phaedra Bonewits.
In February of 2020, Oberon Zell added Cat to the Grey Council and Cat began writing for his magazine The Green Egg where she now has her own column that comes out quarterly. The magazine and her articles can be ordered at greeneggmagazine.com. Later that same month Cat secured a book contract with Llewellyn. Her book, Psychic Skills for Magic and Witchcraft, will be released on February 8th 2022. It will be available though Llewellyn, Amazon, Barnes and Noble and many other venues. Pre order dates will be announced this fall.
In her personal time Cat enjoys helping out the greater Pagan community so she created and admins, The Rouge Valley Pagans Group, The Klamath Falls Pagan Spiritual Group and The Grants Pass Pagans Group and The Elders and Leaders Group so that those folks would have a place to communicate and share. Cat's main page on Facebook is Earth Witch Cat Gina Cole, where she is happy to chat with anyone who has questions. You can also follow her on Instagram and Twitter.
Flying – From Psychic Skills for Magic and Witchcraft by Cat Gina Cole
"Since days of old, it has been said witches fly. And while there is a lot of lore written about witches flying much of it is not verified. This is because flying falls under UPG,-unverified personal gnosis. There are levels to flying and many of us fly without even realizing it.
Have you ever daydreamed and just let your mind roam? or zoned out? Or used the wandering mind meditation? Those are the basic skills for flying, and they prime your brain for free association drifting which is needed in flying.
Flying is a hallucinatory like state that can be achieved through ecstatic activities like chanting, drumming, or dancing. Then there is using positions or herbs. Recipes for flying potions and ointments are guarded like stolen gold. The main reason for this is safety.
So here is the golden rule: Always do your own research of any herb or oil you use and obey all laws and requirements for anything you use. In my upcoming book, Psychic Skills for Magic and Witchcraft, I explore flying enhancements and give you the basic skills to achieve the flying state of mind."